WE OPEN SOON….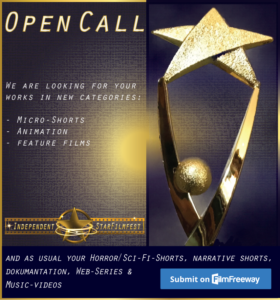 THE CATEGORIES
The call is open for our festival on November 2020 will open soon!
– Narrative shorts – narrative films less than 40 minutes.
– Music shorts – music videos of all kind of styles and categories.
– Horror/Mystery/Fantasy shorts – less than 40 minutes.
– Short documentary – documentaries of any theme, less than 20 minutes.
– Bavarian shorts – Special category for Bavarian filmmakers nearby Freising. If you are located in zip code areas 85xxx, 84xxx. Filmlength max 40 min.
– Webseries – one episode, less than 15 minutes.
– New blood – shorts of young filmmakers (max. age 20)
All genres accepted, except commercials.
Submission
Submit for the StarFilmfest at Filmfreeway:
https://filmfreeway.com/IndependentStarFilmfest
Fees
Please note our submission deadlines on Filmfreeway.com
The official selections of each category will be announced on our website. The finalists will be invited as special guests to the Independent StarFilmfest and the winners will be honored at the end of the festival screening.